Landscaping Barrow County
Proudly Serving Bethlehem, Carl, Russell, Statham, & Winder
Precision Landscape Management creates amazing outdoor environments for all of our customers in Barrow County. Our quality work is the landscaping standard other companies strive to imitate, but never duplicate. Our approach is based on good communication – both before the project begins and throughout the entire process. We realize that above everything else, this is your home. In order to make your outdoor spaces reflect your needs and personal style, our approach offers a spirit of cooperation, communication, and professional expertise. From the initial consultation to the final design, you will find the entire staff at Precision Landscape Management friendly, receptive, and responsive to your ideas and questions.
Barrow County is located in the north-central portion of Georgia. It includes the small, but growing cities of Bethlehem, Carl, Russell, Statham, and Winder. The population grew 50% during 2000 – 2010 when Precision Landscape Management was in its early years. Barrow County is conveniently located near the University of Georgia in Athens. The area has a small-town feel but is not too far from any of the amenities and conveniences of big city life. We enjoy the many friendships we've developed over the years in this growing county. Do you need help with your outdoor space? Contact Precision Landscape Management today to learn how we can improve your Barrow county landscape!
---
Services
At Precision Landscape Management, we provide a full range of commercial landscaping and residential landscaping services that take you from design to installation and maintenance. Below you will find a few of our most popular services.
Irrigation
Design Work
Drainage Problems
Artificial Turf
Grading
Lawn Chemicals
Hydro Seeding
Planting
Storm Utilities
Pruning
Leaf Control
Tree Removal
Lawn Aeration
---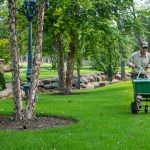 Barrow County Lawn Care Maintenance
Residential maintenance is offered on a weekly, bi-weekly, or monthly service plan. With each request, we assign an experienced sales professional to review your property in order to provide you with a customized estimate. Upon our initial assessment, we will also provide you with suggestions on how to address any existing / potential issues that we notice . We will provide an agreement that explains the services included in the monthly price and a list of dates when the crew will arrive for service. Also in the agreement is a list of additional service items that are available to the client as needed. Feel free to request a maintenance quote by phone or email. Precision Landscape Management's team will turn your piece of Barrow County into a beautiful environment you'll undeniably enjoy.
---
Landscaping Barrow County | Design and Installations
A great reputation must be earned when doing landscape installations. Our team has completed hundreds of projects. We have a proven track record of giving clients the most landscape installation value for their dollar. We will do a complete evaluation of your property along with a preliminary design and budget. You will set the final budget and scope of work and there will be no surprises other than how great your property looks when we are done.
---
Hardscape Design and Installation Barrow County
Let Precision Landscape Management transform your outdoor space by constructing many Hardscape designs including:
Outdoor Kitchens
Outdoor Fireplaces
Fire Pits
Flagstone Patios and Walkways
Stone Columns
Retaining Walls
Archways
Fireplaces & Fire Pits
Entries
Special Stone Features
---
Seasonal Color- Spring & Summer
We offer unlimited seasonal color programs designed to enhance the beauty and curb appeal of your landscape. Whether planted in garden beds or arranged in flower pots, seasonal color can provide that extra something to further enhance your landscape and home. Our design experts will work hand in hand with you to design just the right color program for your yard.
---
Landscape Lighting Barrow County
Precision Landscape Management creates lighting schemes that transform your landscape and outdoor living areas. We provide an array of attractive and functional landscape lighting options that will instantly add beauty to your yard, patio, or walkway while illuminating the surrounding areas. The benefits of landscape lighting to your front yard are numerous.
Landscape lighting adds a layer of safety to the exterior of your home, thwarting burglars from taking action. It also creates a nice feeling when you make it home, knowing that your outdoor lighting is lit and that special feeling of knowing you have made it to your own personal sanctuary after a long day out in the world. Landscape lighting also creates a gorgeous nighttime setting and creates an after-dark curb appeal. Landscape lighting can also be used in your backyard too, especially when you want to entertain guests on a summer evening. Having the option to entertain or have a meal outside with the proper lighting turns your house into a great place to escape to for your family and friends.
Precision Landscape Management provides many different options for landscape lighting for your home, whether it's for curb appeal or entertainment purposes. Give us a call to discuss your next landscape lighting project.
---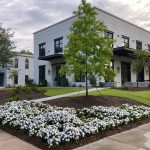 Commercial Landscaping in Barrow County
Precision Landscape Management works with numerous clients on commercial landscaping. Below are a few services we offer in Barrow County:
Apartment complexes
HOA's
Commercial strip malls
Schools
Realtors
Management companies
Multi-family housing
Mixed use
Offices
K-12
Higher education
Hospitals
Senior living
Churches
Industrial manufacturing
Recreational
Sport facilities
All required services are offered and performed including:
tree & shrub pruning
irrigation repair
over seeding
aerating
Precision Landscape Management always carries the correct insurance, bonding, and licensing required by all commercial clientele. Feel free to request a maintenance quote by phone (770) 725-2927 or email: info@precisionlandscapega.com