Bethlehem, GA Landscaping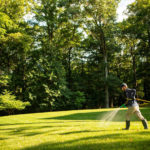 Precision Landscape Management was founded in Athens, GA in 2001. Our company's primary goal is to create quality work that sets the standard for designing and installing the best-landscaped properties in Bethlehem GA and surrounding areas. We love serving the Bethlehem community and the great residents who call it home! Bethlehem is located only 24 miles from Athens and has great restaurants, local businesses, and a movie theatre. PLM is proud to help homes and businesses in Bethlehem Ga become more beautiful by providing expert landscaping services.
Why Precision Landscape Management?
We understand that your home or business in Bethlehem, GA is a direct reflection of your own personal style! Your outdoor space should represent your family or your business, and help to make the property an even better place to live or work. In order to make your front yard or backyard spaces reflect who you are, our approach includes a spirit of cooperation, communication, and competence that only true professionals can provide. From the initial consultation to the construction and final design, you will find the entire staff at Precision Landscape Management friendly, receptive and responsive to your ideas and questions. We work diligently to guide you to the best choices along the way. Our experience and professionalism can't be beaten. Our team here at PLM are not only landscaping experts but also landscaping enthusiasts! Turning people's ideas and dreams into outdoor spaces that are functional, beautiful, and a true reflection of who they are is our biggest goal. Don't forget, we offer free estimates for all of our services. Contact Us to see how we can transform your outdoor space today!
Landscape Design in Bethlehem, GA
While PLM provides the full spectrum of landscape design and installation in Bethlehem, GA, we specialize in creating residential or commercial landscapes that transform and enhance outdoor spaces. Whether formal or casual, expansive or intimate, PLM can design and build your ideal outdoor environment. PLM offers a number of different landscape design options to give your property a unique look and feel. Landscape design adds curb appeal to your home or business like nothing else can. Imagine having a beautiful place to relax outside after a long day, or watch the kids play, or enjoy lunch on the patio. It's like having your own personal paradise.
The benefits of landscape design don't stop there, though. A well-intentioned landscape design cuts down on outdoor maintenance, freeing up more time for you to enjoy time outdoors with your family. It also complements social gatherings and gives you a place in nature to enjoy a good book or unwind after a long day at work. Our hardscape design options create a list of endless possibilities. We can also suggest different ideas for your outdoor area. Landscape design can also have an impact on the resell value of your home or business.
Service Options
Bethlehem, GA Residential Landscaping Services
Residential landscaping is offered as weekly, bi-weekly, or monthly maintenance plans. With each request, we will send out someone to walk over your yard so that he can provide you with a customized estimate. Precision Landscape Management will also give you suggestions on any other existing problems that we see. We want to make sure that we build a relationship with our customers that will last forever. Learn more about our residential services for Bethlehem GA:
Bethlehem, GA Commercial Landscaping Services
Precision Landscape Management knows that grounds maintenance is the top priority for all our commercial customers. PLM performs commercial landscaping on all types of customers including apartment complexes, HOA's, commercial strip malls, hospitals, schools, realtors, and management companies. Learn more about our commercial services for Bethlehem GA:
Contact Us
A great reputation must be earned when doing landscape installations. Our management has completed hundreds of projects. We have a proven track record of giving clients the most landscape installation value for their dollar. We will do a complete evaluation of your Bethlehem GA property along with a preliminary design and budget. You will set the final budget and scope of work and there will be no surprises other than how great your property looks when we are done.
Contact Us Today For A Free Estimate at 706.354.5807